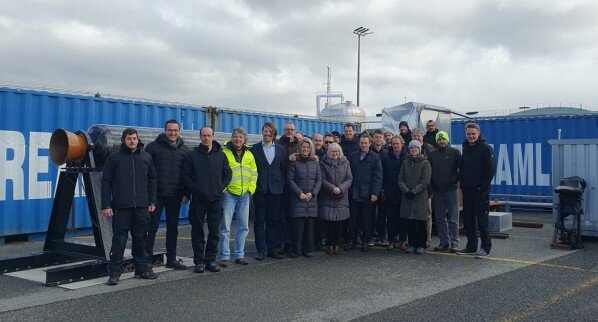 Ibadan, 3 May 2023. – HyImpulse has completed its eighth campaign of motor testing in the Shetland Isles on the 26th of April. The high-level event featured representatives of the UK Space Agency, European Space Agency (ESA), Scottish Development International, Highlands and Islands Enterprise, Shetland Islands Council, and local constituency members for the Scottish Parliament and UK Parliament.
The two-day tour included a visit to the HyImpulse UK motor test facility and to SaxaVord Spaceport. The representatives were able to experience, first-hand, a hybrid rocket motor hot fire test and stand at the very edge of the United Kingdom. Following this successful round of testing, HyImpulse will prepare for its first suborbital launch of its sounding rocket technology demonstrator in the latter half of 2023. This will be an important milestone for HyImpulse and also for the UK, as it will be the largest rocket launched vertically from the UK and from SaxaVord Spaceport.
Christian Schmierer, co-CEO of HyImpulse said: "With this latest round of testing, we are another step closer to achieving our demonstrator launch. We are glad to host the UK Space Agency so that they can see our technology in action. This hybrid system will be a game changer for reducing the cost of access to space, getting small satellites where they need to go safely and on-demand."
Hybrid motors use solid fuel and a liquid oxidizer, which offers numerous advantages in cost, manufacturability, and safety. Specifically, recent breakthroughs in this technology from HyImpulse enable equal performance to commercial liquid motors while significantly reducing costs. As a result, HyImpulse is on course to develop a commercial orbital launch service based on hybrid propulsion that aims to significantly reduce the cost of access to space for small satellites.