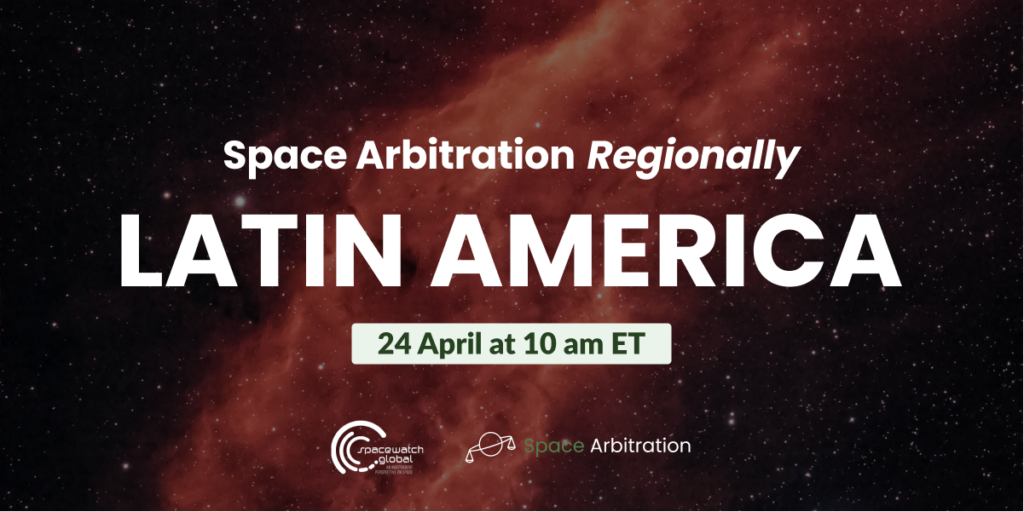 Space Arbitration Regionally: Latin America
The Space Arbitration Association, supported by SpaceWatch.Global is featuring a new event series: Space Arbitration Regionally.
The first event will take place on 24 April at 10 am ET and 4 pm CEST and focus on Latin America. The panel will discuss the current state of the space industry in Latin America with a focus on public policies and private initiatives in different countries. It will also address the potential for disputes and available dispute resolution mechanisms.
The event is supported by the Latin America Interest Group of the American Society of International Law.
Speakers:
• Ian Grosner, Brazilian Space Agency
• Clara Luz Alvarez, Universidad Panamericana
• Luciano Giesso, Satellogic
Moderator:
This panel will be conducted in English.
The Space Arbitration Association is an association that is focusing on providing information and organizing events around the topics of space and international arbitration.
SpaceWatch.Global is a proud event and media partner of the Space Arbitration Association initiative.
Reserve your spot now!