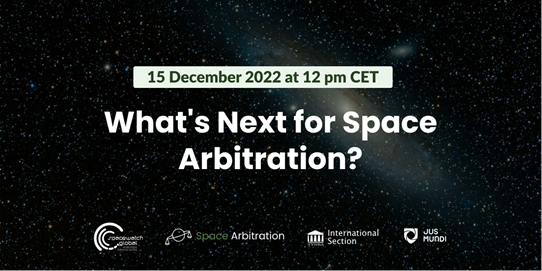 What's Next for Space Arbitration?
Please join us for a discussion on 15 December 2022 at 12:00 pm CET on outer space and international arbitration, organized by the Space Arbitration Association , hosted by Space Watch Global, and supported by the International Section of the New York State Bar Association and Jus Mundi.
The panel will address the question of what's next for Space Arbitration in the context of risk management in outer space. It will discuss various commercial initiatives directed at mitigating risks, address the current state of international legal efforts, risk management in space contracts, and finally the role international arbitration can play as a complementary protection.
Panel:
Moderator:
This panel will be conducted in English.
The Space Arbitration Association is an association that is focusing on providing information and organizing events around the topics of space and international arbitration.
SpaceWatch.Global is a proud event and media partner of the Space Arbitration Association initiative.
Reserve your place today.