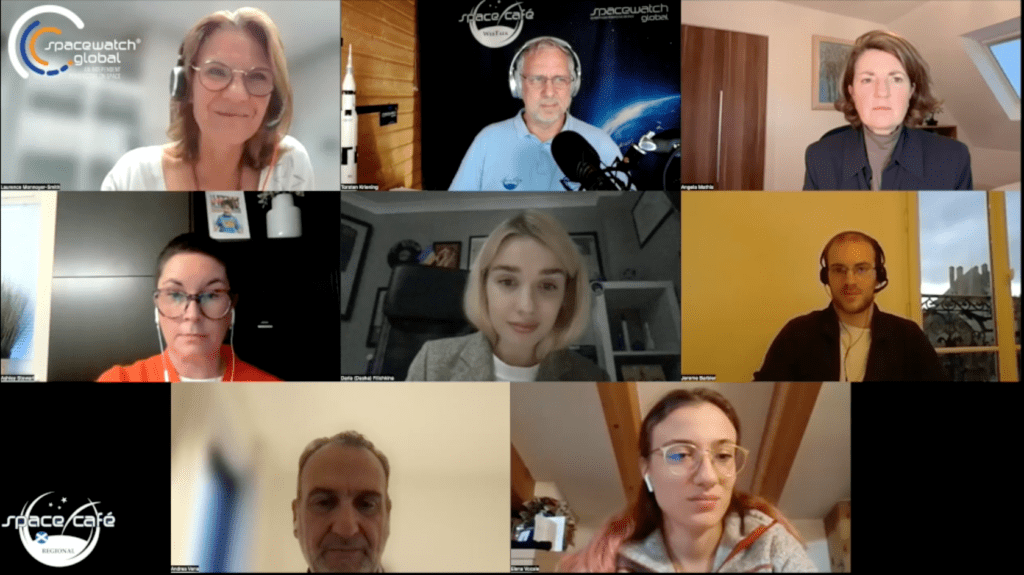 by Viktoria Urban
Our Space Café Scotland by Angela Mathis took place on Thursday, 24th November. Angela, CEO of ThinkTank Maths was joined by panelists to talk about Scotland's Space Sustainability Roadmap.
Space offers both economical and investment opportunities. It enables humanity to watch what we are doing to the planet in real time and do something about it. It is also a domain though, of which we do not know everything yet. The panelists of this webtalk include people representing significant organizations in the world. They have put together strategies, have deliverables, they are transparent, and they have concrete plans.
Ashley Stewart, Senior Consultant for Optimat, starts by explaining how Optimat was involved in the development of Scotland's Sustainability Roadmap which was published in September this year. Optimat has a strategy consultancy, and a space marketing consultancy and therefore were appointed by Scotland's Regional Development Agency, Scottish Enterprise, to collaborate on the project. The Roadmap's creation was called for by the Environmental Task Force, established in 2019 by Space Scotland, aiming to better understand the Earth and the low Earth orbit impact of the space industry.
The Roadmap focuses on "the ability to conduct space activities indefinitely into the future while also ensuring continued access to the business benefits of the exploration, and the use of space for peaceful purposes, in order to meet the needs of the present generations, while preserving Earth and the outer space environment for future generations," she said.
In addition, space sustainability also requires the promotion and use of space data and recognizes the need for such. Currently, there is a lack of agreed and widely adopted metrics, guidelines and targets regarding space sustainability, which has complex technical, economic and political challenges as well.
Daria Filichkina, Chief Operating Officer at AstroAgency continues by describing the 11 detailed work packages contained in the Roadmap. These are divided into three areas: Leadership, In Orbit, Environment and Net Zero. Leadership focuses on public commitments, on planning and promoting space sustainability on both national and international levels. In Orbit targets in orbit activities and encourages responsible spacecraft operations and space debris mitigation, while Environment and Net Zero focuses on understanding and mitigating the environmental impacts of the sector. All the work packages are divided into short and medium term actions that have to be achieved by 2025. There are also long term goals for both on Earth activities and in orbit activities, which have to be achieved by 2045. The next step according to Daria is to get support and to become a catalyst of conversations regarding space sustainability.
Laurence Monnoyer-Smith, Head of Sustainable Development at the French Space Agency, CNES (Centre National D'Etudes Spatiales), says that the agency has developed a similar strategy. The CNES roadmap contains five issues, five themes, and features Scotland as well.
Andrea Vena, Chief Climate and Sustainability Officer at the European Space Agency (ESA), goes on to talk about the success of the last ESA Council Meeting at Ministerial Level. Despite the current geopolitical situation of Europe, all 22 Member States have expressed increasing support, including the UK. The Council is very much concerned about sustainability, and it even launched an accelerator named "Space for a Green Future". The activities under this accelerator have all received a lot of support from Member States: from Earth observation through the digital twin hub initiative, to the activities on navigation and integrated applications that are contributing to the benefit of society.
ESA has also been contributing to Scotland's Sustainability Roadmap. The agency's aim is to increase the benefits for the sustainable development of society. In addition, it also focuses on sustainable outer space activities, and given the support of the Member States, it is clear, he says, how much they are all committed to the preservation of outer space. ESA has been developing technical guidelines and the Director General voiced the agency's commitment to the Net Zero Space Debris program as well. ESA is also planning to improve the environmental impact of its own activities by decarbonizing.
Jerome Barbier, Head of Outer Space, Digital and Economic Issues at the Paris Peace Forum states that the organization is working on cyberspace, climate, and outer space issues. As the Paris Peace Forum is a political and diplomatic organization, it tries to advocate for the classical way of doing diplomacy. It looks to include non-state actors, public authorities and regulators to have informal debates about the main challenges of global governance, especially on emerging technologies.
The Net Zero Space initiative, which the Scottish Environmental Task Force has agreed to support, is concerned with the sustainability of Earth orbit, the environment and outer space. It focuses on technical recommendations of standards and best practices and the implementation of these recommendations. It is also aiming to achieve better interoperability between the mainstream nations. The Paris Peace Forum's key concern is to bridge the gap between the consensus within the space community, and political level policymakers and people who are not space specialists.
"They will need to be convinced that first of all, there is an environmental issue in orbit, that we actually need to take action to protect these complex environments," he says.
Daria adds that the Roadmap was very well adopted by the industry as it was requested by and developed in cooperation with the stakeholders and major sustainability experts. She feels that the connection of environmental efforts to government funding will also help a lot in the future. Scottish Enterprise has already launched the first funding call as a result of the Roadmap, supporting right behaviors and sustainable actions.
To listen to the Space Café WebTalk's insights, you can watch the full program here:
Viktoria Urban, Senior Editor at SpaceWatch.Global: After graduating as a Journalist from Edinburgh Napier University, I am now doing an Astronomy and Planetary Science degree at The Open University (Scotland) which has enhanced my already existing love and enthusiasm for space. I am also a member of and a volunteer for several societies both in Hungary and in the UK and write online content on space for multiple companies as well. I hope my science communication will encourage many to find a job in the space sector, whatever their background and highlight important issues to ensure a sustainable space environment for future generations.