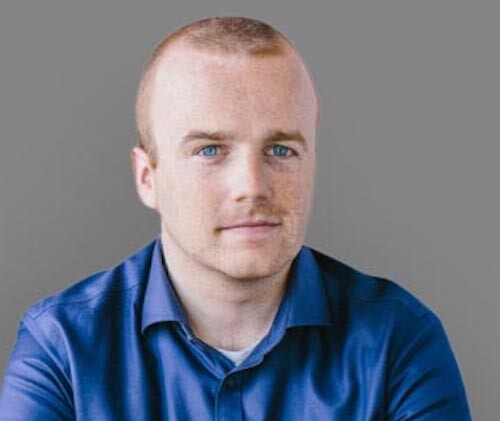 by Viktoria Urban
Our Space Café "33 minutes with Joel Spark" took place on Tuesday, 6th December at Spire Glasgow. 
Joel is an ISU (international Space University) alumnus and the Co-Founder of Spire. He is currently the company's Chief Satellite Architect and General Manager of Space Services – more on that later. He holds a Master's degree in Space Management from the ISU and a Bachelor's degree in Aerospace Engineering from Carleton University, specializing in structures, systems, and vehicle design.
Joel starts by saying that the founding of Spire sounds a bit like a premise of a joke: a Canadian, a Belgian and an Austrian meet in a café in France and decide to start a space company. He met Peter Platzer and Jeroen Cappaert at the ISU where the idea of Spire was born out of Peter's thesis on the business ecosystem of nanosatellites, in particular about the growing gap between what the perception of what could be done with nanosatellites, and what could actually be done with these spacecraft.
The trio chose to found the company in Scotland as it has a great local culture in terms of people and innovation, and fantastic universities, ensuring the inflow of fresh talent into the market. In addition, Spire has three sites in the US, one in Canada, two in the UK, one in Europe, and one in Singapore. An Australian presence is just being established as well. A universal challenge in all these places is finding good people, he says.
In the beginning, the company focused on non-imaging (non-optical) ways of providing data, with a mission to provide data from space to improve life on Earth. They then saw the tremendous opportunity provided by CubeSat capabilities and SDRs (Software Defined Radio). With reprogrammable chips in space, Spire became able to deliver data at volumes and in ways that hadn't been done before. Today, the firm's data is being used for science, climate science, weather forecasts, and ship traffic and sea ice monitoring, soil moisture content estimation, among others.
Spire uses radio occultation, where they look at how a GNSS (Global Navigation Satellite System) signal is refracted as it passes through our atmosphere. From this information, it is possible to calculate the pressure and temperature of the air.
The company now offers space services where third parties can put their application on Spire's satellites, and operate it through the web, using Spire's ground stations and constellation automation.
"We seek to use a space, from low Earth orbit, in sustainable ways so that we're not creating space debris," Joel says.
Spire has launched 150 spacecraft so far and all of these spacecraft are deployed in very low Earth orbit, where they will decay within five-ten years. 
"They are just on the edge of the atmosphere where passively without any action from us, they will reenter," he continues. 
Joel states that the company has conducted interesting studies with the European Space Agency and the UK Space Agency as well. These studies looked into using ionospheric data to monitor and predict tsunamis and earthquakes.
To listen to the Space Café WebTalk's insights, you can watch the full program here:
Viktoria Urban, Senior Editor at SpaceWatch.Global: After graduating as a Journalist from Edinburgh Napier University, I am now doing an Astronomy and Planetary Science degree at The Open University (Scotland) which has enhanced my already existing love and enthusiasm for space. I am also a member of and a volunteer for several societies both in Hungary and in the UK and write online content on space for multiple companies as well. I hope my science communication will encourage many to find a job in the space sector, whatever their background and highlight important issues to ensure a sustainable space environment for future generations.