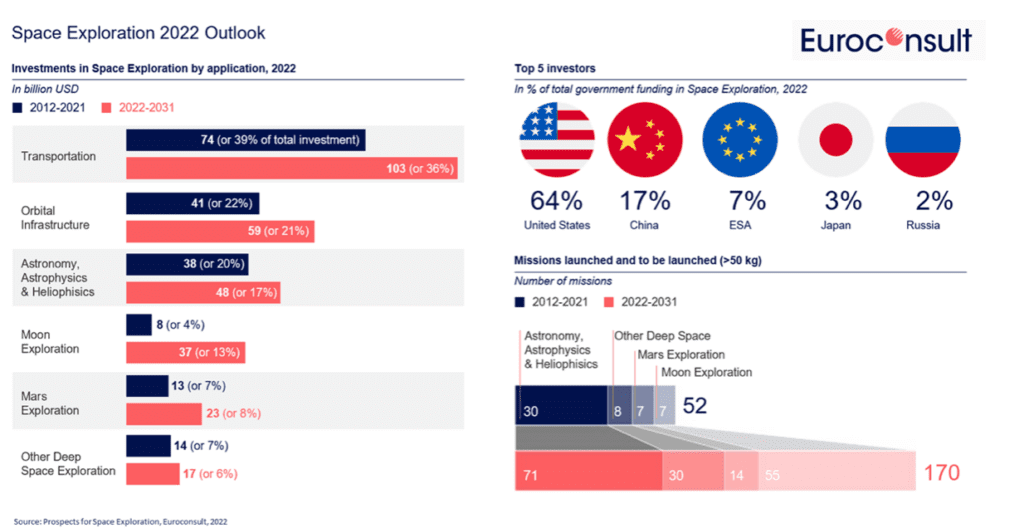 Edinburgh / Paris / Washington D.C. / Montreal / Yokohama / Sydney, 3 November 2022. –  The latest edition of global strategy consulting and market intelligence firm, Euroconsult's Prospects for Space Exploration report predicts that global governmental investments in space exploration will reach $31 billion within the next decade despite ongoing geopolitical issues. 
Key budget drivers according to the report include increased funding in transportation, orbital infrastructure, and lunar exploration. Both public and private focus is on establishing a sustainable lunar presence along with maintaining a low Earth orbit presence. Different governments, public and private organizations started collaborating on space projects boosting investments from established nations like the United States.
The report states that space transportation programs are expected to remain the most funded and can reach $10.7 billion by 2031. Orbital infrastructure projects combined with transportation applications currently represent over 58% of the total space exploration budget.
As many as 60 commercial lunar missions are planned to be launched within the next decade. However, governments will still play a crucial role in supporting the industry, especially as many have become customers of commercial solutions.