By Gary Martin, Carolina Sá, Raphael Roettgen, and Camilo Andrés Reyes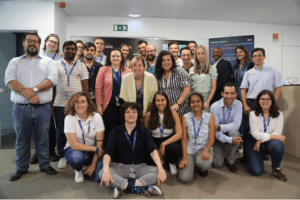 This has been an amazing summer at Instituto Superior Técnico – Tagus Park in Oeiras, Portugal, especially for the energetic, driven, and inspiring people making up the Down 2 Earth Team Project. Under the proposed topic of Space for Non-Space, the team focused on the downstream value chain trying to identify potential gaps and suggesting new ideas to foster the uptake of space data by the non-space sectors.  They worked and played long hours throughout the nine-week course of the International Space University (ISU) Space Studies Program 2022 (SSP22) and pooled their expertise and creativity to make a significant contribution to the space community.  The research conducted by the team project was performed at the request of the International Space University, the Portuguese space agency – Portugal Space and supported by AWS (Amazon Web Services).
The team project brought together 23 talented participants from 11 countries. The team members experienced first-hand how to work within ISU's Interdisciplinary, International, and Intercultural (3Is) environment. To succeed they had to self-organize, agree on the project's scope, divide up the work, and create a detailed work plan for the entire project.  Throughout the first few weeks of data gathering for the project the team met with experts in-person and online (e.g representatives of ESA, NASA, EUSPA, Planet, BCG, and national companies and start-ups such as SpinWorks, Spotlite and Tesselo) and made professional visits to relevant local Portuguese organizations (e.g. Deimos Engenharia and Development Seed offices in Lisbon).  The project requirements were to produce a Final Report over 120 pages long, and a high gloss Executive Summary used to market their results. Another deliverable is the final presentation, where the participants describe their project and their research results in an hour-long multi-media format.  After the presentation, the entire team stands on the stage for questions from a panel of external experts.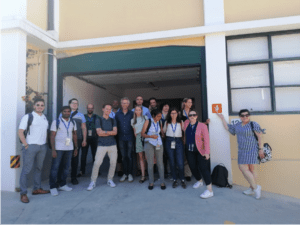 The team analyzed three major space data markets: earth observation, satellite communications and GNSS. To start with, the team researched and summarized all the content available from the three satellite data segments, producing a data inventory. This inventory lists the available data, sorted by provider (both public and commercial), being a potential starting point for an open-source global inventory, with searchable/filtering capabilities, of all available space data, particularly useful to support those working in the downstream sector and wanting to explore what data sets are available and assess feasibility of new applications ideas or to identify specific gaps in data availability (considering both spatial, temporal and spectral resolutions).
The team followed their work by analyzing the current usage, market and future trends in space data for 14 non-space sectors producing a catalogue summarizing the main findings and applications for each of the sectors. After all the research and preliminary analysis, the satellite communications and GNSS markets were deemed to be mature without significant gaps. However, they identified gaps for satellite remote sensing for commercial uses on Earth.
The team has identified the big data problem as being one of the major issues in the uptake of earth observation satellite data as it is not trivial to transform such amounts of data generated daily into simple added-value information for non-expert users.  Remote sensing satellites produce hundreds of terabytes of data daily, with hundreds of petabytes in storage. The team found that large overheads are produced by building and maintaining pipelines that convert the data into summarized user-friendly intelligence and solutions that create value for non-space industrial clients for decision-making and operations.
To address this gap the team developed two business cases, proposing solutions to reduce the overhead costs of turning data into intelligence valuable to non-space customers. The business cases described in the report aim to reduce the technical and financial costs for non-space clients using remote sensing space-based solutions, therefore promoting the adoption of remote sensing space solutions by non-space customers.
They also found that another important gap was the lack of awareness of the general population about the usefulness of space-based data, recommending that more effort is needed by corporations, government agencies and space agencies to highlight the utility of space-based data.
In addition, the team also highlighted that a solution for ensuring sustained accessibility and continuity to space data would benefit many downstream markets. Currently, downstream markets are reliant on the activities of the governmental agencies/private sector without having any direct input on the way they are operated.
In summary, in just a few short weeks, they have started a comprehensive inventory of existing data providers, payloads, and satellites worldwide to support the identification of opportunities and applications for the non-space sectors. In addition, they have gathered information on the current market status of 14 non-space sectors along with their current uses of satellite data, identifying potential gaps. Then, based on their preliminary gap analysis, they have proposed two business plans for new space application companies that will contribute to the uptake of satellite data across sectors. They have produced an excellent, well-thought-out report, which we believe will provide value to the wider space community beyond SSP22.
Want to hear the experience of a SSP22 participant? Here you can listen to our interview with Schedir Illoldi on the day of the final team project presentations.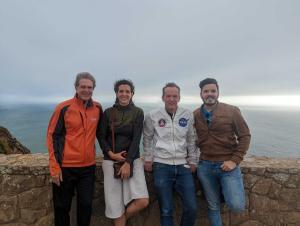 Gary Martin joined the ISU staff as Vice President of North American Operations in January of 2020. He has focused his career on sustainable exploration and development of space. He retired from NASA after 32 years of supporting space science missions, advanced technology development, technology transfer, and human spaceflight. In 2002, he became NASA's first Space Architect, leading strategic planning at the Agency, and the team provided the analysis used to develop the Vision for Space Exploration announced by President Bush in 2004. For this work, he was awarded NASA's Outstanding Leadership Medal. Mr. Martin was seconded by NASA to the International Space University in Strasbourg, France as the Director of the Space Studies Program for SSP06, SSP07, SSP12, and SSP13. In addition, Mr. Martin has been elected multiple times to the ISU Academic Council and continues to lecture and Chair Team Projects for different ISU programs.
Carolina Sá is the Earth Observation Officer of the Portuguese Space Agency – Portugal Space since December 2019, integrating the Portuguese national delegation at the European Space Agency (PB-EO) and at the European Commission Copernicus User Forum and Copernicus Committee. Before joining Portugal Space she was a research fellow at the University of Lisbon, where she also taught satellite remote sensing to marine biologists. She holds a PhD in Marine Sciences from the University of Lisbon, focusing on ocean-colour satellite products validation and algorithm development for monitoring the Portuguese coastal waters.  She hates to talk about herself in the third person but she loves a good trekking!
Raphael Roettgen is the managing partner of E2MC Ventures, a space-focused early-stage venture capital firm. He lectures on space entrepreneurship and finance at several universities including the International Space University (ISU) and the Swiss Institute of Technology at Lausanne (EPFL), hosts the popular Space Business Podcast, and is the author of an introductory book on the space economy, currently available in German ("Hoch Hinaus") and Portuguese ("Para Cima"), and forthcoming in English. He is a frequent speaker at conference, such as e.g. so far in 2022, Spacecom, SmallSat Symposium and Paris Space Week. Previously, Mr. Roettgen held senior roles at global investment banks and hedge funds and was also a fintech entrepreneur in Brazil.
Camilo Reyes is from Bucaramanga, Colombia. He pursued his bachelor's degree in Mechanical Engineering at Los Libertadores University in Bogota, and his Master's on Satellite Technology at the University of Wurzburg, in Germany. During winter 2013/2014 he did an internship in the aeromechanics branch at NASA Ames Research Center. In the summer of 2016, he enrolled in the International Space University where he got the diploma on Space Studies with a focus on Space Law and Policy, and he also worked on the team project designing an artificial gravity space station. In 2017, Camilo did a professional internship at the Colombian Air Force, and he also joined the Mars Society Peru and performed a Mars Analogue Simulation at the MDRS in Utah.