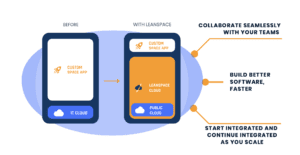 Edinburgh / Logan, Utah, 23 August 2022. – Software infrastructure company, Leanspace, hosted a live demonstration of digital continuity together with browser based tool provider, Valispace, showcasing a native integration between software tools used to design and operate satellites enabling collaboration across the space mission life-cycle, Leanspace said.
During each space mission, several software tools are needed including mission conceptualization and satellite design, hardware testing and operations. However, all this technology comprises independent systems that do not communicate with each other, requiring manual data movement, limiting automation. Leanspace claims the solution to this issue is digital continuity, the ability to move data across phases, tools and teams.
By eliminating the interfaces between the different tools, it allows for faster design iterations and enables smoother collaboration between teams. Digital continuity is able to synchronize all tools throughout the design-test-operate phases, making space missions more efficient.
Leanspace has recently closed an oversubscribed Seed financing round of €6 million, which will be used to scale up its cloud services platform.