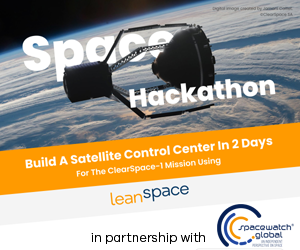 Leanspace, in partnership with Clearspace, the International Space University (ISU), the International Astronomical Federation (IAF) and SpaceWatch.Global, is organising a space hackathon at the Space Tech Expo in Bremen, Germany.
The Challenge
10 teams will compete to develop a ground control application of managing one of the most ambitious missions of the decade.
From testing and monitoring to procedure automation and debris capture, they will use the Leanspace cloud platform to solve real-world issues facing ClearSpace-1, the world's first orbital debris removal satellite.
Furthermore, the participants will be harnessing Leanspace's cutting-edge technology, developing and delivering space applications like never before.
Prizes
Winning Prizes
Exclusive trip to see Clearspace-1
Win a trip to get up close and personal with the ClearSpace-1 satellite at the ClearSpace integration facilities.
This is an exclusive opportunity to see a flagship ESA mission – and a truly unique satellite – during a key stage of the assembly, integration and testing.
VIP tickets to the IAC 2022 in Paris
Win an invitation to the most important event in the space industry: the International Astronautical Congres (IAC) in Paris. In addition to free tickets to attend the IAC, there will also be a VIP networking event specially curated for the winner.
International Space University Scholarships
Win up to EUR 64,000 of scholarships to attend a program at the most renowned space university in the world: the International Space University (ISU). This scholarship will fast-track the winner's career to become the future leaders of the world space community.
Prizes For All Participants
Internship at a NewSpace leading company
Win the opportunity to intern at two of the most fascinating space startups in Europe; start careers in space, and shape sustainability beyond Earth together with Leanspace and Clearspace.
EUR 500 travel subsidy to join the event in Germany
So that participants can attend the Space Tech Expo in Bremen, Germany, the organisers are offering up to EUE 500 towards travel and accommodation for each participating team. In addition, the participants will have the opportunity to meet up with fellow hackathon teams, network at the Expo and party with the Leanspace and Clearspace teams after the prize giving.
To apply for this hackathon, kindly follow this link :