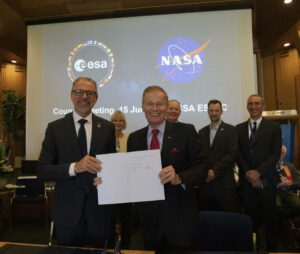 Edinburgh, 20 June 2022. – NASA Administrator Bill Nelson and ESA Director General Josef Aschbacher signed two agreements at the latest ESA Council meeting in Noordwijk, Netherlands, to advance cooperation on Earth science and the Artemis lunar missions, NASA said.
ESA's Lunar Pathfinder mission will contribute to the progression of the lunar communications infrastructure, necessary for a long-term human presence. NASA will deploy ESA's Lunar Pathfinder spacecraft to lunar orbit to provide communication services on the Moon's surface. ESA is currently working on the development of the Pathfinder in collaboration with UK-based Surrey Satellite Technology. The spacecraft will offer S-band and Ultra-High Frequency communication channels with X-band frequencies relaying data back to Earth.
The Earth science agreement ensures the continuity of Earth observations promoting the open sharing of data, information, and knowledge. The partnership will aid scientists' and the wider public's understanding of climate change and the ways to tackle it.
NASA has worked with ESA on a variety of missions, like the James Webb Space Telescope. Current projects include the lunar Gateway and the Sentinel-6 Earth observation satellite series for sea level measurements.