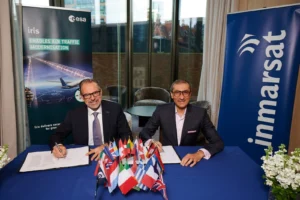 Edinburgh, 20 June 2022. – Global mobile satellite communications provider, Inmarsat, signed a contract with ESA to take Iris air traffic modernisation programme global and drive the future of uncrewed aviation airspace integration in Europe, Inmarsat said.
Airspace is getting congested: in Europe alone, a 50% increase in flights is expected in the next 20 years. The aviation industry therefore has to come up with more sustainable practices.
Iris was developed in a public-private partnership launched by ESA. The service enables high bandwidth satellite-based datalink communications between air traffic controllers and pilots. Iris will enter commercial and operational service in Europe in 2023, allowing aircraft to exchange live data with ground systems during the entire flight.
The Iris Global project will focus on the technologies and certification required for fuel sharing, CO2, and congestion-saving benefits of Iris, the company said. It will also ensure information sharing with regards to airport operational status, weather, flight data, and airspace restrictions. The project also aims to back research on the integration of uncrewed aviation into European airspace.