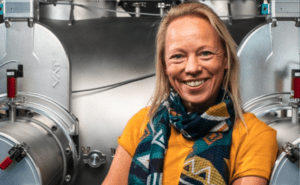 SpaceWatch.Global is pleased to present: The Space Cafe Podcast #54 Ane Aanesland, CEO of ThrustMe. A life between new propulsion technologies and Arctic adventures.
Episode 054 features a special guest: Ane Aanesland.

Ane Aanesland's company ThrustMe single-handedly developed a revolutionary iodine-based propulsion system that even NASA cut its teeth on and shelved decades ago. Ane would have loved to fly it with ESA or the Americans. But the Chinese won the race. Ane provides answers to many related questions and of course much more in the current edition of the Space Cafe Podcast.
The Space Cafe Podcast brings our signature brand of engaging and relevant content from across the global space economy to you via an exciting new format. Together with award-winning Executive Producer, Markus Mooslechner (Terra Mater Factual Studios), our fortnightly podcast features highly interesting guests.
Each episode includes a review of important topics, as well as guest appearances and deep commentary from expert panellists from across the space sector.
Thanks to our global distribution partner, BookWire, the podcast is available on all major podcast platforms.