By Viktoria Urban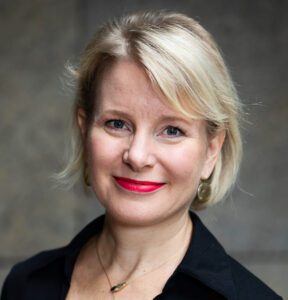 Our Space Café WebTalk "33 minutes with Nicole Thalhofer: The BDLI – Lobby of the German Space Industry and Organizer of the Unique ILA Space Pavilion" took place on Tuesday, 10th May.
Nicole Thalhofer is the Head of Space Department and Lawyer at the German Aerospace Industries Association (BDLI). She was born in Augsburg whereas a student, she was fascinated by astronomy and the space shuttle flights. After finishing school, however, she decided to study law. She went to Berlin and got in touch with Airbus, OHB, the DLR, and ESA through her work and her fascination towards space grew until one day she got a job offer from the BDLI.
All Germany-based companies can become a member of the BDLI, Thalhofer says. This includes smaller SMEs and even start-ups. In fact, start-ups can become a member for free for three years. In turn, the BDLI offers networking events along with different possibilities during events.
The most important topics BDLI addresses are the political and social questions to solve. These include climate change, sustainability, digitalization, innovation and research, safety and protection. The space strategy that the Ministry of Economics is developing is also of great concern as well as ESA's activities. The BDLI is also interested in participating in the secure connectivity initiative.
Thalhofer says that space is very important for all branches of all political sectors and for everyone in our daily lives. As many people still do not know how important space and satellites are, an expert from the DLR will demonstrate what a day would look like without space infrastructure at the ILA Berlin Air Show 2022 organised by the BDLI. She says that the war in Ukraine and the COVID crisis have shown the significance of this technology.
Thalhofer points out that there are approximately 10,000 employees, and about a €3-billion turnover in the German space sector. Her job mainly consists of lobbying. She partakes in writing position papers, exchanges information with political decision makers, organizes members-only events and brings them together with politicians. She also helps in organizing ILA, which has been in Germany for 100 years now.
ILA is the trade fair for innovation and leadership in aerospace and Thalhofer says it is a very good opportunity to get in touch with the people important for space in Germany, in Europe, and also internationally. The ILA Space Pavilion is 1400 square meters, bringing together all the important programs and products in cooperation with ESA and the German Aerospace Association. There are 21 countries among the exhibitors so far, representing the space sector, defense and aerospace. To find out more about the five-day event, visit this link.
With regards to the National Space Law, Thalhofer explains that it is important to define what we mean when we are talking about new space. In her opinion, it is "a thing between commercialization, bringing in other branches and bringing them together with the space sector." This also means that new laws and standards need to be developed.
To listen to the Space Café WebTalk's insights, you can watch the full program here:
Viktoria Urban, contributing Editor at SpaceWatch.Global: After graduating as a Journalist from Edinburgh Napier University, I am now doing an Astronomy and Planetary Science degree at The Open University (Scotland) which has enhanced my already existing love and enthusiasm for space. I am also a member of and a volunteer for several societies both in Hungary and in the UK and write online content on space for multiple companies as well. I hope my science communication will encourage many to find a job in the space sector, whatever their background and highlight important issues to ensure a sustainable space environment for future generations.