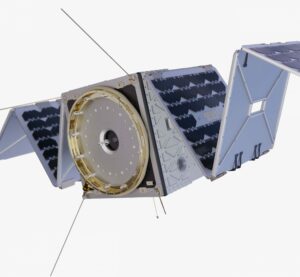 Edinburgh / Vilnius, 19 May 2022. – Norwegian Kongsberg Defence & Aerospace has placed an order for three microsatellites with Lithuanian mission integrator NanoAvionics for a space-based maritime surveillance mission covering the North Sea area, Kongsberg said. The satellites will be based on NanoAvionics' MP42 microsatellite bus.
The surveillance payload will include Kongsberg's Automatic Identification System (AIS) and a navigation radar detector developed by the Norwegian Defence Research Establishment. Combining these technologies will enable ship traffic monitoring in the area even if the ships' AIS is turned off. The new surveillance capacity will contribute to defence operations and will allow for rapid identification of vessels engaged in illegal activities. The constellation will also aid search and rescue operations for vessels in distress.
The project will be Norway's first satellite constellation, which will be enhanced by encryption software developed by Eidsvoll Electronics. All three satellites will be operated by ground station services provider KSAT (Kongsberg Satellite Services). Kongsberg is planning to expand the fleet with more satellites to increase the coverage and revisit times. The company also wants to equip the new satellites with different types of sensors to boost situational awareness capabilities.
The MP42 modular microsatellite buses are optimised for remote sensing, high data throughput, complex communications missions, emergency communications, and research missions.