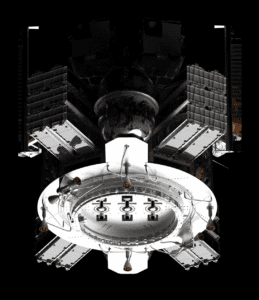 Edinburgh / Sydney, 19 May 2022. – Australian in-space transportation and  logistics startup Space Machines Company (SMC), announced it has secured SpaceX as a launch provider to carry its Optimus Orbital Transfer Vehicle (OTV) to space as part of its April 2023 rideshare mission.
The mission will demonstrate the 270-kg Optimus OTV's in-space logistics services and reinforce SMC's role as a last-mile delivery services provider. 
SMC has recently opened offices in Bangalore, India, to foster technological collaboration between the countries. The company has also recently appointed Mark Ramsey as Chief Operating Officer (COO). Ramsey has nearly 20 years of experience in the Space and Defence sectors, including SITAEL Australia, Lockheed Martin, Thales Alenia Space, BAE Systems and NewSat. Anthony Kittel, founder and CEO of Redarc Electronics, also joined SMC as an Advisory Board member.  
SMC looks to capitalise on the Federal Government's AU $1.16 billion commitment to boost Australia's space industry. Other than funding, Federal initiatives such as the 16-year Earth observation national space mission will grant new commercial opportunities for the sector. Australia's space tech startups will thus have the support to further innovation and collaboration globally.