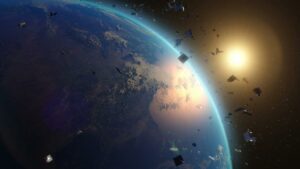 Edinburgh, 20 April 2022. – Vice President Kamala Harris announced that the United States commits not to conduct destructive, direct-ascent anti-satellite (ASAT) missile testing, to set a new international benchmark for responsible behavior in space. The Vice President called on other nations to follow in the US' footsteps as such efforts benefitted humankind.
The commitment is one of the National Security Council, the Department of Defense, the Department of State, and other national security agencies' proposals. These offices were tasked last December to find ways for nations to preserve the security and sustainability of space.
Russia conducted a destructive direct ­ascent ASAT missile test in November last year while the People's Republic of China performed a similar test in 2007. The long-lived space debris resulting from these tests threaten satellites, crewed space stations and space infrastructure. Keeping spacecraft safe is vital to all nations' security, economic, and scientific interests.
The United States wishes to ensure that outer space remains conflict-free. The Biden-Harris Administration aims to lead the development of new measures and guidelines that contribute to space sustainability. The US is committed to carrying out space activities in a responsible, stable, safe, secure, peaceful, and sustainable manner.