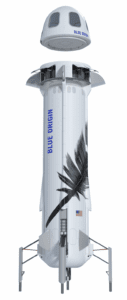 Edinburgh, 23 March 2022. – Blue Origin announced that the sixth crew member to join New Shepard's 20th mission will be New Shepard Senior Director and Chief Architect, Gary Lai. He joins Marty Allen, husband and wife duo Sharon and Marc Hagle, Jim Kitchen, and Dr. George Nield. Lai will be replacing Pete Davidson, who is no longer able to fly to the edge of space this time.
Lai joined Blue Origin in 2004. Recently, he has been leading the team responsible for the design and development of key safety systems on the Crew Capsule. He has also been involved in the development and strategic planning for the New Glenn launch vehicle and Blue Moon, among others. A former student of Carl Sagan, Lai holds three patents in space system technology.
Marty Allen, a turnaround CEO and angel investor, mentors CEOs through board activities. He is CEO of Party America and former CEO of the California Closet Company. Jim Kitchen is a teacher, entrepreneur, explorer and a space dreamer. He has served on the University of North Carolina's Kenan-Flagler Business School, teaching students to create for-profit and nonprofit ventures.
Sharon Hagle is the founder of SpaceKids Global, a nonprofit organisation hosting annual challenges designed to inspire children to pursue careers in the space industry. Her husband, Marc Hagle, is president and CEO of Tricor International, a residential and commercial property development corporation. The Hagles are philanthropists for numerous arts, sciences, health, and education-related charities as well.
Dr. George Nield is the president of Commercial Space Technologies through which he encourages, facilitates, and promotes commercial space activities. He is a former Federal Aviation Administration Office of Commercial Space Transportation associate administrator. Dr. Nield also served as Flight Integration Office manager for NASA's Space Shuttle Program.