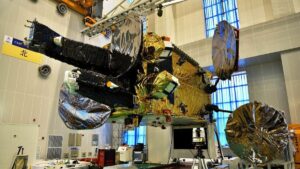 Edinburgh / Jakarta, 24 March 2022. – PSN Group (Pasifik Satelit Nusantara) has entered into contracts to build the Nusantara Lima Satellite with a planned launch in 2023 to augment the capacity of SATRIA-1, the company said. These two very high throughput satellites will make PSN one of the biggest satellite capacity providers in Asia, according to the firm. Its 330 Gbps service will cover Indonesia and its surrounding areas.
Nusantara's capacity is over 160 Gbps, and it is aimed to provide primary service in Indonesia and some ASEAN (Association of South East Asian Nations) countries. The satellite will have seven gateways in the regions of Indonesia, including the cities Banda Aceh, Bengkulu, Cikarang, Gresik, Banjarmasin, Tarakan, and Kupang.
PSN has already signed a contract with satellite manufacturer Boeing Satellite Systems, to build Nusantara. The launch will be carried out by SpaceX's Falcon 9 rocket. PSN's ground segment partners will be Hughes Network System and Kratos Communication. Hughes will be responsible for the broadband network and Kratos will provide satellite spectrum monitoring and network management system. The antenna and the radio frequency gateways will be provided by Kratos and PCCW Global.