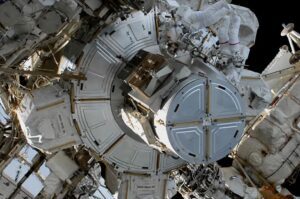 Edinburgh, 24 March, 2022. – Expedition 66 Flight Engineers Raja Chari of NASA and Matthias Maurer of ESA spent 6 hours and 54 minutes outside the ISS during the 248th spacewalk to carry out preparations for an upcoming solar array installation.
Maurer and Chari installed hoses on one of the six radiators that keep systems at the proper temperature. The crew members also installed a power and data cable on the Bartolomeo science platform of the Columbus module. They replaced an external camera as well as conducting further upgrades to the station's hardware.
According to ESA astronaut Dr Alexander Gerst, there is a long checklist to go through with regards to the suit and the tools used during a spacewalk. He says that astronauts spend about two weeks preparing these and going through procedures. 
Despite the careful preparations, the extra vehicular activity started an hour later than planned due to Maurer's loose helmet-mounted camera. Chari managed to hold down the camera with a spare wire and Mission Control had a clear view again. This was the second spacewalk in Chari's career and the first for Maurer.