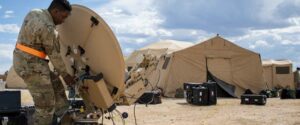 Edinburgh / Reston, 23 March 2022. – Defense products and technologies provider Leonardo DRS, announced it has signed a definitive agreement to sell its Global Enterprise Solutions (GES) business to connectivity provider SES, for US $450 million. The transaction has already been approved by the board of directors of both companies. 
DRS GES is a commercial satellite communications provider to the US Government, delivering mission-critical satellite communications and security solutions. The deal will be finalized in the second half of 2022, once the companies receive regulatory approvals.
SES plans to integrate DRS GES under its subsidiary, SES Government Solutions (SES GS). SES GS provides satellite communication solutions utilizing the company's ground infrastructure and 70 satellites at geostationary and medium Earth orbits. SES GS has supported mission essential operations of Combatant Command and Military Services, among others for the past 40 years. 
Leonardo DRS will continue to focus on meeting the Department of Defense's important priorities. The divestiture will enable the company to consider larger acquisitions to strengthen its core capabilities and to gain new market opportunities, Leonardo DRS said.