As part of the partnership between SpaceWatch.Global and the European Space Policy Institute, we have been granted permission to publish selected articles and briefs. This is ESPI Briefs No. 80: 'Space in Support of Security Missions', originally published in February 2022.
Space technologies, data and services are essential tools for a plethora of organisations tasked with so-called "security" missions. In the last few years only, space-enabled capabilities played a key role in several security-related developments across the globe, for example in:
Mapping the impact of volcanic eruptions near Tonga or at La Palma,
Detecting human rights violations and forecasting extreme weather events in Africa,
Tackling the increasing migratory flows to Europe, on both terrestrial and maritime routes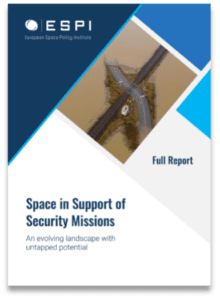 In its latest report, the European Space Policy Institute (ESPI) addresses the international "space for security" landscape, in its non-military dimension, and investigates how the role of space in support of security on Earth can be further strengthened. In particular, the report examines the particularities of the landscape in Europe, noting the favourable evolution of institutional frameworks at EU and ESA levels as well as the emergence of greater commercial perspectives.
Recent developments arguably create positive momentum for further developments in this field. One of the latest community gatherings, the ESA Security Conference in ESRIN in November 2021 brought together more than 100 stakeholders to discuss how to further enhance the role of space solutions in support of national and European security policies. In particular, two elements were emphasised:
Space assets provide essential capabilities and added value for users tasked with security missions but they also have unserved needs and face difficulties in adopting space solutions;
A common vision on the role of space in support of security policies in Europe is highly desirable and a suitable framework for cooperation and coordination is needed to move ahead.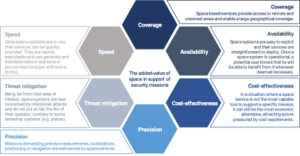 ESPI Report 80 "Space in Support of Security Missions: An evolving landscape with untapped potential" investigates in more detail two overarching themes:
High-level policy, technology and user-related trends, and
Outstanding needs and requirements of the user community (relying on consultation of 50 individual organisations)
Even within the specific scope of security adopted in this study, the spectrum of security missions remains extensive, ranging from border control, maritime surveillance and disarmament process monitoring to search and rescue, forest fires management and infrastructure protection. The relationship that security actors have vis-à-vis space varies greatly both in terms of reliance on space technologies and awareness of the potential benefits of space solutions for security missions: some have gained extensive experience in exploiting space for their routine activities over multiple years, while others are only starting to explore a possible acquisition of space services.
For what concerns the identification of needs, the consultation with users highlighted three major findings:
Users from the security community mainly seek new, adapted and improved capabilities to support their missions
These capabilities should also be easy to access, intuitive to use and readily integrable in their operational environments
Needs and requirements for security features (confidentiality, resilience, availability, etc.) are not the main concern of security organisations
With the evolving user requirements and expanding public and private investments in space-based remote sensing, telecommunications and PNT capabilities, the role of space to support security missions on Earth is poised to further increase. This will likely raise new questions regarding the technology developments to investigate, the appropriate approach to implement to engage with users the development of commercial perspectives and the promotion of synergies across different initiatives.
Rights reserved – this publication is reproduced with permission from ESPI. "Source: ESPI Report 80: Space in Support of Security Missions, available at https://espi.or.at/news/espi-report-80-space-in-support-of-security-missions. All rights reserved.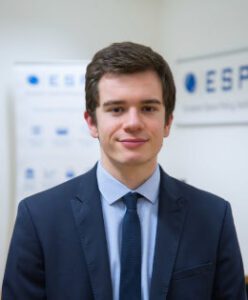 Mathieu Bataille has been Resident Fellow at the European Space Policy Institute (ESPI) in Vienna, Austria, since February 2020. He worked previously at the Studies Department of the French Air Force, in Paris. He holds a Master's degree in Political Science and International Relations from Sciences Po Paris.