By Luisa Low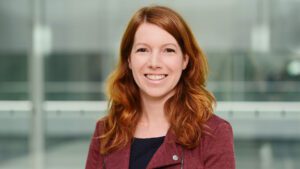 During this week's Space Café, SpaceWatch.Global Publisher Torsten Kriening had the opportunity chance to speak with Dr Anna Christmann – a German politician and Coordinator for Aerospace Policy at the German Federal Ministry for Economic Affairs and Climate Action, serving under the country's new Chancellor, Olaf Scholz.
Dr Christmann previously studied at the Universities of Heidelberg and Bern, receiving her PhD in 2011, and has also worked in Zurich and California.  As an elected member of Alliance 90/The Greens since 2017, she represents the Stuttgart II district, an electorate representing Baden-Württemberg in Southwest Germany, focusing on science, the arts, education, research and technology.
Now, in her recently appointed role as Coordinator for Aerospace Policy, she will cut her teeth in the global space world, focusing on using space technology to fight the climate crisis and driving new enterprise.
This week, she and Torsten discuss the importance of environmental policies for space and how Germany is fostering a startup culture.
Can The Greens lead space?
As a Greens politician representing Germany's aerospace sector, Dr Christmann has already been asked whether her tenure will pose a problem for the aerospace industry. With a rise in renewables and the global energy model undergoing a monumental shift from fossil fuels to decarbonisation, the old argument that environmentally led parties can't forward trade or industry simply no longer holds up. Rather, Dr Christmann believes that as a Green politician she can impact space for good, and guide the sector so that it serves humankind and the environment.
"Because of the climate crisis, climate protection is so important for me as a Green politician, and also for the whole new government that really sees the chances that come with space."

"We wouldn't know as much about the climate, climate change and the climate crisis without space technologies. But too few people know how important space is for this knowledge – and our knowledge – to learn more about what we can do, not only for climate protection and to stop the climate crisis, but also to minimise the things that come with global warming."

"So I think it really goes very well together – green politics and space policies. That's why I'm very happy to be in charge of this topic now."
Space for a Green future – what you need to know
According to the European Space Agency (ESA), earth observation has been essential to identifying and monitoring climate change, as well as supporting prevention and adaption measures. To help mitigate climate change, the agency has launched the Space for a green future accelerator, which will use data gleaned from Earth observation to improve modelling, predictive forecasts, policy formation and implementation, monitoring, evaluation and more. Many European government programs are supporting this push too, including Germany, which, supported by SpaceX, will be launching environmental satellite EnMap this coming April.
The satellite will take high-resolution images of the Earth's surface, to further understanding of vegetation, climate change, soil and mineral resources, water quality and environmental pollution.
"So, we are really already part of this whole green space issue. And that is, will be also a priority for the next few years."
Germany sets sights on 'NewSpace'
Aside from agitating for an environmental space agenda, the newly formed government will put a greater emphasis on 'NewSpace'. Newspace comprises private spaceflight and launch efforts and the increasing privatisation of the industry. Proponents have advocated and lobbied for a broad commercialisation, leading to an increase in private capital and government-backed grants for startups. Dr Christmann believes there is room for private space enterprise and state actors to play together and form a cohesive vision for space. In Germany, there is already a big market for small launches – and one the government is willing to develop even further.
"Newspace, for me… is the kind of ecosystems that is driven by start ups, smaller firms and companies that are very dynamic, very agile, and therefore, have the opportunity to really do this kind of disruptive innovation."

"The important thing is that we have an ecosystem composed by both sides: the classic space companies that we have – that are strong and important for the European ecosystem – but also smaller companies, startups and new firms, as it brings a kind of dynamic into the whole sector."

"We see the micro-launch initiative as a very positive example how we can play an active role from the state side, but also to get them to also raise private money. This is absolutely a way we want to go in the future and also in the new space sector."

"And I think both sides together are a big chance for Europe to really have good and successful technologies and very new developments in the space sector that make us able to be an important partner for international cooperation."
To listen to Dr Anna Christmann's insights into green space and Newspace, you can watch the full program here:
Luisa Low is a freelance journalist and media adviser from Sydney, Australia. She currently manages Media and Public Relations for the University of Sydney's Faculty of Engineering.