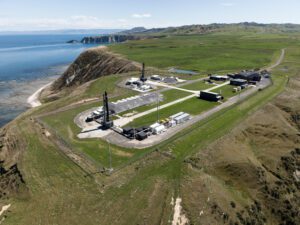 Edinburgh / Mahia Peninsula, 24 February 2022. – Rocket Lab USA has completed Pad B, its second orbital launch pad at Launch Complex 1 in New Zealand and the company's third dedicated pad for the Electron rocket. The new launch site's first mission will be a dedicated commercial launch for Japanese Earth-imaging company Synspective in four days, Rocket Lab said.
Pad B is the world's first private orbital launch site, located in Mahia, New Zealand. The company's other two operational launch sites are Pad A at Launch Complex 1 and Launch Complex 2 in Virginia, USA. Pad B includes a 66-ton launch platform and 7.6-ton strongback customized to the Electron launch vehicle, the company said.
Launch Complex 1 is an FAA-licensed site capable of 120 launches a year, helping spacecraft to reach a wide range of orbital inclinations. Rocket Lab's private range control facilities, three satellite cleanrooms, a launch vehicle assembly hangar and administrative offices are also located here.The new pad enables concurrent launches, eliminates pad recycle time and ensures that a pad is always available for launch.