This Space Café Brazil will feature Raphael Roettgen, managing partner of E2MC Ventures, in conversation with Ian Grosner, Correspondent of SpaceWatch.Global for Brazil.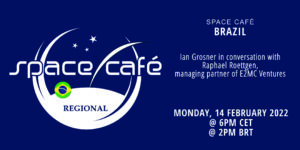 A conversation on space business.
Raphael Roettgen is the managing partner of E2MC Ventures, a space-focused earlystage venture capital firm. He lectures on space entrepreneurship and finance at several universities including the International Space University (ISU) and the Swiss Institute of Technology at Lausanne (EPFL), hosts the popular Space Business Podcast, and is the author of "Hoch Hinaus", an introductory book on the space economy, currently available in German and forthcoming in English and Portuguese. He is a frequent speaker at conferences.
Previously, Raphael has held senior roles at global investment banks and hedge funds and was also a fintech entrepreneur in Brazil. He holds degrees in finance from Wharton, machine learning from PUC-Rio and space studies from the International Space University, where he also serves as a governing member. He is conducting doctoral research on financing options for space activities at the University of Luxembourg.
This episode will address Raphael's introductory book on space business, "Para cima: a nova economia espacial", which will be published in Brazil very soon. Over seventeen chapters and 190 pages, the book explains key trends and activities in space, as well as what humanity's future in space may look like.
We will talk about The Space Business Podcast produced by him, which aims to bring space entrepreneurship and other space themes to a broad audience. Every one or two weeks, Raphael talks to a member of the space family, always in non-technical language.
The audience will have an opportunity to ask questions in dialogue with Raphael Roettgen.
SpaceWatch.Global is a Switzerland-based digital magazine and portal for those interested in space and the far-reaching impact of the space sector.
This Space Café Brazil will be conducted in Portuguese on 14th February 2022 at 6 pm CET.
Reserve your place today.