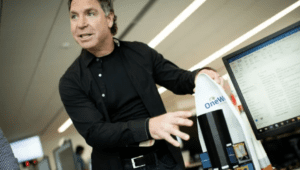 Edinburgh/ Stuart, Florida/ Toulouse, 9 February 2022. – E-Space has closed the "largest seed funding round in space technology history" with a $50 million investment led by Prime Movers Lab.
The startup behind Rwanda's filing for a constellation of 300,000 satellites is Greg Wyler's latest space venture. He also co-founded O3b Networks and OneWeb previously.
Wyler's company is planning to help businesses and governments tackle issues on Earth with a new network of satellites. It could consist of as many as 100,000 secure communication satellites.
The current investment funds the company's "Beta 1" launch of its test satellites in March, it says. It also finances the second, "Beta 2" launch later this year while mass production is planned for 2023.
E-Space's peer-to-peer satellite communication model enables real-time command and control and global insights, the company said. E-Space is planning to make space safer by minimizing satellite debris on collision, capturing and deorbiting space debris. The constellation will also incorporate a high-drag configuration for the satellites to de-orbit passively. Other requirements include the 100% demise of the spacecraft in the Earth's atmosphere and small cross section for collision avoidance.
E-Space has entities in France and the U.S.