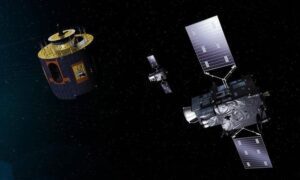 Edinburgh / Madrid, 9 February 2022. – Technology multinational GMV has been awarded a new contract by the European Organisation for the Exploitation of Meteorological Satellites (EUMETSAT), for the provision of operational optical data services to support the flight dynamics operations of its fleet of meteosat satellites. The nominal duration of the contract is 3 years with 2 optional yearly extensions.
The service will comprise of high accuracy optical data and orbit determination solutions integrated with Eumetsat's operational environment. Accurate and timely information will support orbit determination, manoeuvre estimation and ground station calibration as well as complement station outages.
Surveillance and tracking services company, 6ROADS will provide optical data, utilising a global network of telescopes in Poland, Italy, Spain, Namibia, USA, Chile and Japan. GMV will be responsible for data curation, orbit determination and manoeuvre estimation operations with the help of its  software. 
With this new service, GMV strengthens its commitment to Eumetsat as one of its main ground segment software infrastructure providers. The flight dynaamics systems for Metop, Metop-SG, Sentinel-3, Sentinel-6 and MTG satellites are such examples already in operation.