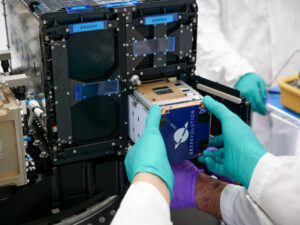 Edinburgh / Orlando, 14 January 2022. – Virgin Orbit deployed seven cubesats for three customers on LauncherOne's third successful operational flight that took off from air-launch platform Cosmic Girl, a Boeing 747 aircraft. 
The rocket carried the satellites into low Earth orbit, at an inclination of 45 degrees. This was the first time this inclination from the West Coast was reached, according to Virgin. 
The satellites launched included experiments in space-based communications, space debris detection, and in-space navigation and propulsion among others. The mission brings the total number of satellites launched by Virgin Orbit to 26, the company said.
Four of the seven small satellites belong to the Defense Department's Space Test Program. Two others are from a Polish smallsat developer, SatRevolution, while the seventh satellite is from Spire Global. All seven spacecraft are three-unit cubesats.
The launch was the first of six planned for this year by Virgin Orbit. Two of the future launches are scheduled from Spaceport Cornwall in England, and the rest from the Mojave Air and Space Port.