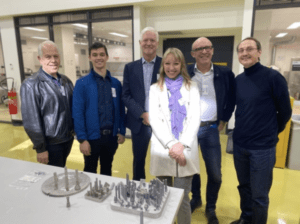 Edinburgh / Sydney, 14 January 2022. – Aerospace engineering startup, Hypersonix Launch Systems, has signed a Master Research Collaboration Agreement with the University of Sydney to research and manufacture the components of a zero emissions, hypersonic spaceplane capable of deploying small satellites into low earth orbit, the University said. 
The vehicle, named Delta Velos, will be powered by four hydrogen-fuelled scramjet engines for carbon neutral propulsion. The 3D printed fixed geometry scramjet engine will be produced under the Australian Commercialisation grant awarded to Hypersonix in 2020. This will be the first engine of its kind according to the University of Sydney.
The institution will also develop further versions of the engine as well as flight-critical components and vehicle fuselage. The research and development will utilize next generation additive manufacturing technology at the University's Sydney Manufacturing Hub.
The joint project starts this year, with Hypersonix developing a series of demonstration launch vehicles to test the spaceplane's efficacy. The first of these projects will be Dart AE, a smaller version of Delta Velos. Powered by a single Spartan scramjet engine, it is scheduled to launch in the first quarter of 2023.