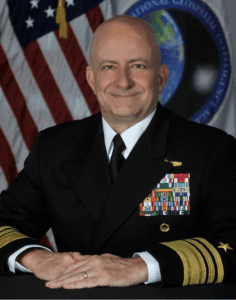 Edinburgh / Washington, 11 January 2022. – The Defense Department announced President Joe Biden has nominated Navy Vice Admiral Frank Whitworth to lead the National Geospatial-Intelligence Agency (NGA), the institution responsible for analyzing and distributing satellite imagery for intelligence purposes.
Career intelligence official Whitworth, currently serves as a director among top military officers advising the president and senior defense officials. Prior to this, Whitworth served as commander of Joint Intelligence Center, commanding officer of U.S. Central Command and Kennedy Irregular Warfare Center. He also served as director of intelligence for Joint Special Operations Command, U.S. Africa Command and for maritime operations.
The nomination has to be confirmed by the Senate before the vice admiral can take over the NGA. The Agency uses raw satellite imagery acquired by the National Reconnaissance Office and processes these for the national security community.
Whitworth is to replace naval officer, Vice Admiral Robert Sharp. As there is an increasing number of raw data, the NGA plans to utilize AI and automated image processing systems. Therefore, the NGA launched a tech accelerator under Sharp's leadership to help companies work with the Agency on these.