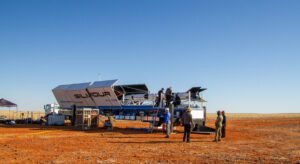 Edinburgh / Queensland, 11 January 2022. – Rocket engineers at Gilmour Space Technologies have successfully test fired the most powerful rocket engine ever developed in Australia, Gilmour Space reported.
The company achieved the full thrust of 110 kN (kilonewtons) during the 75-second test. Generating enough force to lift four SUVs off the ground, the test is a significant milestone for Gilmour Space. The event was also a demonstration of the country's first sovereign launch capability.
Following the success of the test fire, the firm is moving on to the final engine qualification next month. The Australian company is developing rockets capable of launching 300-4,000-kg payloads into orbit over the next five years.
The main engine will power the other two stages of the three-stage Eris rocket. Gilmour Space is currently seeking approvals from state and federal government agencies to get the go for an orbital spaceport. The chosen location for this is the Abbot Point State Development Area in Bowen, North Queensland. 
The company is hoping to launch Australia's first sovereign-made rocket from Queensland in late 2022.