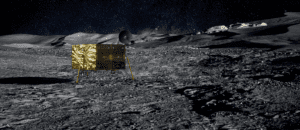 Edinburgh, 12 January 2022. – Space infrastructure company, Masten Space Systems, announced they were already preparing for their second Moon mission, although Mission 1 has not left Earth yet. The company claims that they are capable of launching Mission 2 as early as six months after Mission 1.
Masten's first mission to the Moon, landing near the Haworth Crater, is scheduled for the end of 2023. The Xelene lunar lander will deliver both government and commercial payloads to carry out research before human missions can launch. Research includes assessing the composition of the surface, detecting ice and volatiles (methane, carbon dioxide, ammonia), and evaluating radiation.
The Xelene lunar lander (configuration XL-1) got its name after the Greek Moon goddess, Selene. Selene was responsible for regulating the progression of the Moon and lighting up the sky at night for humans. Masten aims to benefit humankind in a similar way as well. The firm aims to make space accessible, utilize extraterrestrial resources, and enable commercial applications and scientific innovations.
The exact date and delivery site of Mission 2 will be determined by the company's payload partners. Masten is ready to deliver missions to lunar near- and far-side locations, as well as permanently shadowed craters.