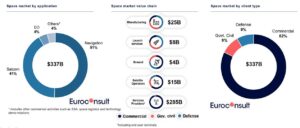 Edinburgh / Paris / Washington D.C. / Montreal / Yokohama / Sydney / Toulouse, 11 January 2022. –  Space consulting and market intelligence company, Euroconsult, estimates that the global space economy totaled US $370B last year. The figures leading up to the estimation can be found in their Space Economy report for 2021.
These include the commercial and governmental space market (US $337B), internal costs and R&D of government organizations (US $33B). The space industry is expected to undergo a 74%-increase by 2030 reaching US $642B. The steady growth follows a 4% decrease in 2020 due to the Covid-19 pandemic's effect on commercial space services.
The global space market witnessed a 6% increase compared to 2020 and was valued at US $337B in 2021. The largest revenue drivers are satellite navigation with 50%, and communications contributing 41% of the total value. 
Earth observation accounts for about 5% of the total market. Satellite navigation has surpassed satellite communications with an increase of over 13% compared to 2016. The latter can be attributed to global navigation satellite system (GNSS) services and their related devices.