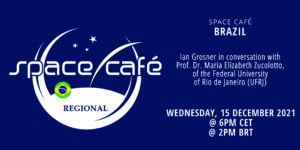 This Space Café Brazil will feature Prof. Dr. Maria Elizabeth Zucolotto, of the Federal University of Rio de Janeiro (UFRJ), in conversation with Ian Grosner, Correspondent of SpaceWatch.Global for Brazil.
The importance of studying meteorites.
Professor Zucolotto is graduated in Astronomy at Valongo Observatory/UFRJ (1978), with TCC Meteorites and the formation of the Solar System, Master's in Geology from the Geosciences Institute/UFRJ (1988) with a monograph in Metallic Meteorites and a Ph.D. in Metallurgical and Materials Engineering by COPPE/UFRJ (1995) with a Thesis in Magnetic Alloys. She is Professor at the National Museum/UFRJ, and curator of the meteorite collection since 1997. She is currently associate professor and head of the Department of Geology and Paleontology in the UFRJ. She has interdisciplinary experience in the field of Planetology, working mainly on the following topics: meteorites, identification, analysis and classification of new Brazilian meteorites, dissemination and extension projects with the public and amateur scientists, encouraging the dissemination of meteoritics in Brazil.
In this episode, we will talk about the importance of studying meteorites for the scientific and academic community and for Brazilian society. First, Professor Zucolotto will briefly introduce meteoritic, that is, an overview of meteorites: what are they like? where does it come from? how to recognize it? The history of meteoritic and their influence on Earth and Human history. Finally, we will discuss the current bills in the national congress that intend to regulate the ownership of meteorites that fall in Brazilian territory.
The audience will have an opportunity to ask questions in dialogue with Prof. Dr. Maria Elizabeth Zucolotto.
SpaceWatch.Global is a Switzerland-based digital magazine and portal for those interested in space and the far-reaching impact of the space sector.
This Space Café Brazil will be conducted in Portuguese on 15th December 2021 at 6 pm CET.
Reserve your place today.