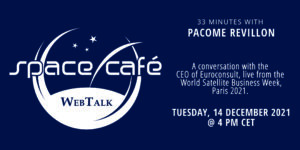 This Space Café WebTalk will feature Pacome Revillon, CEO of Euroconsult, in conversation with Torsten Kriening, publisher of SpaceWatch.Global.
Live from the World Satellite Business Week, Paris 2021.
Pacôme Révillon is CEO of Euroconsult, the leading international consulting firm specializing in the space and satellite application markets and an international reference for key strategic advisory services, market research, and international summits. Pacôme has held the position of CEO since 2003 and is responsible for defining the overall business strategy and operations of the company. Over the course of his career, he has spearheaded consulting projects for both public and private stakeholders at all levels of the value chain located all over the world, helping leaders with their organization's most critical issues and opportunities. Pacôme has directly advised leading government organizations, new and leading operators, service providers, banks and investment funds, and industrial players, providing them with support for strategic planning and decision-making.
The World Satellite Business Week brings together 1,000 private sector high-level executives and senior government officials from over 45 countries who attend this Summit, representing public and private investors, industrial groups, satellite and telecom operators, service providers, geospatial software solution providers, satellite imagery, and data providers, in addition to private end-users and civil or defense government agencies.
The audience will have an opportunity to ask questions in dialogue with Pacome Revillon.
SpaceWatch.Global is a Switzerland-based digital magazine and portal for those interested in space and the far-reaching impact of the space sector.
This Space Café WebTalk will be conducted in English on 14 December 2021 at 4 pm CET.
Reserve your place today.