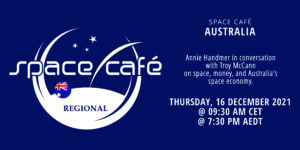 Join Troy McCann and our host Annie Handmer for a conversation on the two things that make the world go around: space, and money. Australia's space economy is unique, characterised by a growing class of start-ups that target the 'NewSpace' economy. But despite a dedicated Space Agency committed to growing the space economy, Australia's domestic policy and funding settings are complicated to navigate. Start-ups compete with international primes for contracts and big university departments for grants. At the same time, space has become the playground for billionaires. In this discussion, Troy will provide a first-hand perspective on the experience of raising funding in a sector that seems to be awash with investment, but in which the distribution of that funding remains uneven.
Space and Money
Troy is the founder of Moonshot, a company growing technology businesses that leverage and integrate frontier locations into our world, ranging from physical spaces to cyberspace. With over 13 years experience in technology and entrepreneurship spanning multiple diverse businesses and industries, Troy has developed a framework for supporting the growth of commercial solutions to humanity's most difficult challenges. Troy was ranked the 13th most influential global new space business leader of the sector in the NewSpace People Global Ranking Report for 2020. With a practical and approachable interpretation of what constitutes space, Troy is able to translate the intangible into very real opportunities that have clear commercial application across industries from health to telecommunications and business functions such as supply chain.
Annie Handmer is currently completing her PhD at the University of Sydney's Faculty of Science, in the School of History and Philosophy of Science. Her research traces the social history of Australian space science projects in order to better understand international and interdisciplinary cooperation, the social construction of achievement, and the nature of the military-industrial-academic complex in Australian space science. In addition to her academic studies, she is on the Advisory Council for the Space Industry Association of Australia, a member of the Space Generation Advisory Council 'Ethics and Human Rights in Space' Project Group, the Space Law Council of Australia and New Zealand, program consultant to the Australian Youth Aerospace Association ASTRA Committee, and is also the host and creator of the Space Junk Podcast.
SpaceWatch.Global is a Switzerland-based digital magazine and portal for those interested in space and the far-reaching impact of the space sector.
This Space Café Australia will be conducted in English on 16th December 2021 at 09:30 am CET.
Reserve your place today.