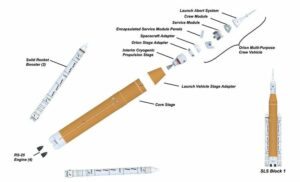 Edinburgh, 7 December 2021. – NASA awarded the Booster Production and Operations Contract to build boosters for the agency's Space Launch System (SLS) rocket to Northrop Grumman. The $3.19 billion contract will support nine SLS flights, through to Artemis 9 in 2031, NASA said.
Northrop Grumman produced the boosters for the first three, and is currently working on the motors for the fourth Artemis mission. In June 2020, the company was contracted for the production and operations of twin boosters for Artemis 4-8. NASA also ordered the design, development, test, and evaluation of a booster for Artemis 9. 
The twin solid rocket boosters will produce more than 75% of the thrust for each SLS launch. Their design is based on the space shuttle boosters including an additional fifth segment for extra power. The non-reusable boosters starting with Artemis 9 will have a stronger composite case, upgraded structures, and electronic thrust vector control systems.
SLS is planned to make its first un-crewed flight in 2022, the first crewed flight in 2024 and the first landing mission in 2025. With a long-term lunar presence, NASA plans to establish a steppingstone on the way to Mars.