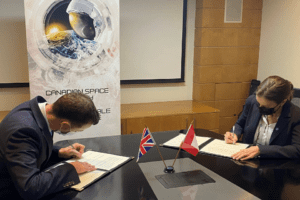 Edinburgh/Dubai, 1 November 2021. – The UK Space Agency and the Canadian Space Agency have signed a Memorandum of Understanding on joint activities and information sharing on space, the British High Commission Ottawa reported. The MoU was signed in Dubai at the annual International Astronautical Congress (IAC 2021).
The UK and Canada have a history of collaborating on scientific research from Covid-19 to genomics, and AI to Quantum technologies. The new agreement calls for collaborative activities and the exchange of information, technology and personnel between the nations.
The UK Government recently launched the National Space Strategy outlining plans to make Britain a leader in science and technology. The Canadian Space Agency leads Canada's activities in space, including space exploration, utilisation and technology development, as well as scientific research.
The MoU builds on cooperation in the space science, technology, applications, law, regulation, space policy and human capital development areas.
Both, the UK and Canada are part and partners of the European Space Agency (ESA).