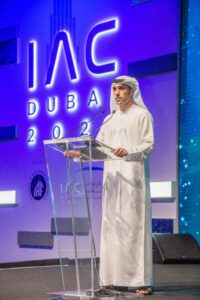 Edinburgh/Dubai, 1 November 2021. – The 72nd International Astronautical Congress (IAC 2021), organised by the International Astronautical Federation (IAF), held in the Middle East for the first time and hosted by the Mohammed Bin Rashid Space Center (MBRSC) ended on Friday.
Over 6,500 delegates from more than 110 countries attended the "Inspire, Innovate & Discover for the Benefit of Mankind" themed event.
IAC 2021 took place in Dubai with large numbers of plenaries, meetings, announcements and exhibitions showcasing over 90 companies.
Astronauts and cosmonauts from the UAE, Russia and the USA also participated in the five-day event. The Congress began on 25th October, gathering 1500 additional participants during the public open day.
During the event, MBRSC announced partnerships with Thales Alenia Space, Airbus, SpaceX, UNOOSA and ESA. They held a live session with the UAE Analog Mission#1 CrewONE members, detailing the eight-month analog mission to be conducted in Moscow beginning this week. Blue Origin, Boeing and Sierra Space announced the building of "Orbital Reef", a commercial space station. Lockheed Martin and Nanoracks also announced plans to build a space station called "Starlab". The UAE's Edge Group signed an MoU with Lockheed Martin to identify industrial partnership opportunities across the UAE's aerospace and defence sector. The Polish Space Agency signed NASA's Artemis Accords. 
The extensive technical programme included 183 technical sessions with 1,442 speakers and over 150 interactive presentations. At the closing ceremony, MBRSC and IAC 2021 officials handed over the International Astronautical Federation (IAF) flag to Lionel Suchet, Chairman of the IAC 2022 from Paris, the host city of IAC 2022.