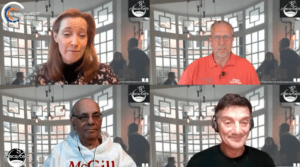 In the latest Space Café "Law Breakfast with Steven Freeland", Steven Freeland and Torsten Kriening welcomed  Joanne Wheeler and Ram Jakhu at the wonderful and historic 'Press Café in London.
Over Danish pastries, cookies, croissants and coffee, the panellists, along with a fantastic audience, engaged in a revealing and insightful discussion dealing with many legal issues arising from everyday space activities, including the following:
An analysis of the legal, ethical and environmental implications of actions that deliberately lead to the creation of debris clouds in space
The importance of space law and regulatory frameworks to the concept of environmental and sustainable governance (ESG), and adherence to important environmental obligations
How space law is also vital to address other areas of global concern, including international criminal justice, disaster management, and human trafficking
What governance structures are necessary to respond to rapid changes in the scope and nature of space activities
The importance of a comprehensive study program to teach space law with a 'holistic' perspective, so as to enable space lawyers to address the challenges of the 21st century
The nine 'nuances' that are key to becoming a 'space literate' lawyer
And sooooo much more……
Joanne and Ram also gave their 'one word' to describe the wonders of space/space law – a tradition for all guests at our Space Café Law Breakfasts. Space law certainly means many things to many people and is such an interesting and relevant concept, to lawyers and non-lawyers alike.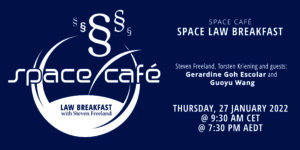 We hope that you will enjoy this discussion and will already note in your diary to join us in Beijing for the next Space Café "Law Breakfast with Steven Freeland" on 27 January 2022, with our fabulous guests, Geraldine Goh Escolar and Guoyu Wang. There will be so many more issues to discuss.
Please let us know if there is a particular event or issue that you want our expert panel to help to 'demystify'.We really hope you will join us for breakfast in January!  See you then!
This Space Café "Law Breakfast with Steven Freeland" was held on 25 November 2021.
SpaceWatch.Global
 is a Switzerland-based digital magazine and portal for those interested in space and the far-reaching impact of the space sector.
Here the video: