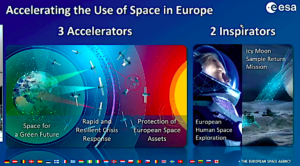 Paris, 22 November 2021. – The member states of the European Space Agency (ESA) want to "accelerate the use of space in Europe to tackle the urgent and unprecedented societal, economic and security challenges faced by Europe and its citizens," ESA said after a meeting of the countries'  ministers in charge of space activities in Matosinhos, Portugal.
The Council of Ministers unanimously adopted a Resolution, the "Matosinhos manifesto", defining three "accelerators" to bring Europe's space ambitions to the next level and mandating the ESA Director General to develop their governance and funding concepts, in concert with the member states, ESA said.
The three accelerators are: "Space for a Green Future", "Rapid and Resilient Crisis Response", and "Protection of Space Assets".
The ESA Council also recognised two "inspirators" to reinforce European leadership in science, technology development and inspiration: an icy moon sample return mission; and human space exploration, ESA added.