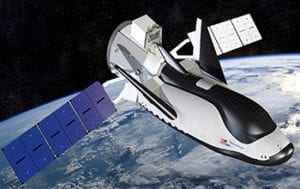 Paris/ Louisville, Colorado, 21 November 2021.– The launch company Sierra Space raised $1.4 billion in a Series A capital round, bringing its valuation to $4.5 billion, the Colorado-based builder of the winged and reusable Dream Chaser launcher said.
The round is led by General Atlantic, Coatue and Moore Strategic Ventures, with participation from funds and accounts managed by BlackRock Private Equity Partners, AE Industrial Partners, and various "strategic family offices", the company said.
The funding will accelerate the development of the company's Dream Chaser Spaceplane, "the world's only orbital commercial spaceplane", Sierra said.
Dream Chaser is designed to be a reusable orbital spaceplane, capable of "a smooth 1.5 low-g re-entry" and able to land on commercial runways virtually anywhere on Earth.
Dream Chaser will perform cargo supply and return missions for NASA and is set to begin in late 2022, delivering up to 12,000 pounds of cargo to the International Space Station (ISS) at a time, Sierra says.