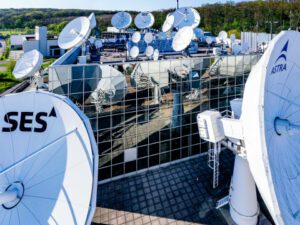 Paris/ Luxembourg, 21 November 2021. – SES ordered two large geostationary (GEO) Ku-band satellites for TV distribution over Europe from Thales Alenia Space, the company said.
The two satellites, Astra 1P and Astra 1Q, will replace two current Astra satellites at SES's prime orbital neighbourhood of 19.2 degrees East, which serves 118 million TV households across Europe, SES said.
Both, Astra 1P and 1Q, are classic wide-beam satellites and will enable content owners, private and public broadcasters across Germany, France and Spain to continue broadcasting satellite TV channels and continue services "well into 2040", SES said. In addition, Astra 1Q will be "customisable on orbit and can be deployed easily to other orbital positions".
The companies did not disclose the procurement´s capital expenditure; SES only said that the "procurement of the two satellites was already incorporated within SES's existing Capital Expenditure outlook for 2021-2025".