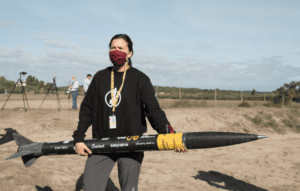 Edinburgh, 14 October 2021. – Portuguese Space Agency (Portugal Space), and the Portuguese Army signed a partnership protocol to allow rocket launches by competing teams of the European Rocketry Challenge (EuRoC), the Agency reported.
The second edition of the competition will carry on until 17th October with 20 teams, 20 rockets and 400 enrolled students. All participants will have to adhere to environmental protection rules. Brigadier General Sérgio Augusto Valente Marques, Commander of the Mechanized Brigade, wished all the competitors a successful and safe competition. Meanwhile, Ricardo Conde, President of Portugal Space, thanked the hospitality and support of the Army.
The goals of the competition include stimulating synergies between academia and the aerospace industry and motivating young people to pursue careers in STEM. They also want to showcase that Portugal is in a position to hold a European-level event and promote the development of technological skills and a scientific culture.
Danish team, Danstar began the launches, being one of the three teams that were present at EuRoC 2020 as well. The Italians of Skyward came next, then the Swiss teams of the Piccard and EULER projects and the Austrian Space Team Aachen. The competitors make their rocket assemblies in Ponte de Sor, while the launches take place at Campo Militar de Santa Margarida.