by Luisa Low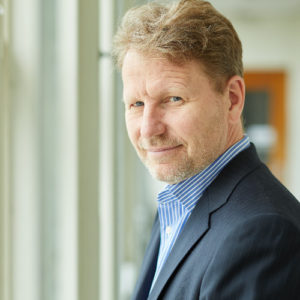 For this week's Space Café, SpaceWatch.Global publisher Torsten Kriening got to sit down with Ronald van der Breggen, a Dutch business strategist and founder and CEO of Route206.
Established in 2013 in the Netherlands, the company works with a wide range of clients in the space and satellite sector, helping to maximise their offerings and turn their ideas into reality through commercial strategy and IP expertise. Ronald has over 20 years of experience in business administration and technology, having worked at the CCO at LeoSat Enterprises and Vice-President of Customer Account Management at SES Satellites, bringing a huge wealth of knowledge to his organisation's offerings.
This week, he and Torsten discuss GSOs (geosynchronous orbits) and NGSOs (non-geosynchronous orbits), and the commercial benefits, downsides and opportunities of these satellite technologies.
Along came NGSOs
For non-satellite folk, GSOs and NGSOs are two kinds of satellite infrastructure.
GSOs are "fixed" satellites that stay in tandem with Earth-based receiver technology, such as antennae and satellite dishes. They do move, but they do so while matching Earth's axis rotation, meaning they are always moving in 'sync' with their target but have the illusion of staying put.
Used widely by the data communication industry, these fixed satellites are the industry's "workhorses", but along have come NGSOs – non-geostationary systems operating in the middle, near and low-Earth orbits – that are beginning to shake things up.
So how do they work – and what risks and benefits do they offer?
Coming from the terrestrial data communication industry, Ronald is a huge supporter of NGSOs, and the reason for that is because they will be central to an ever more digital world.
"I think we can all agree that there's just more and more data out there simply as a function of satellites in a lower orbit being better able to support data. I think, ultimately, the geo orbits will completely empty out and it will the satellites will ultimately end up in LEO orbits."
But while a firm supporter, he is also critical of NGSOs, believing with without rigorous analysis and asking the right questions now, they may take flight but fail to thrive commercially.
"I am a firm believer in that you need to have a vision for the future. And you need to have a path towards profitability. These are two key concepts from me."
However, instead of a clear proof of concept or vision for the future, he believes the NGSO sector is suffering from a "pandemonium of news" – designed to grab the public's attention and frenzy investors into parting with cashes – that lacks clear direction or any path towards real profitability.
He also believes the very 21st-century "pivot" could be to blame – with many companies moving sideways from their core concepts once they receive funding – which often runs the risk of burning cash in the longer term, with little results to show.
"It's like going to the bank and saying: 'I want to open up a soup kitchen because I want to make this world a better place and I need a loan.' And then, if you get the loan, you figure: 'Huh, let's open up a sushi restaurant instead'. And then the bank comes to check on the money and says: 'Hey, listen, what's this? I expected to see something else'."
Money talks, but it also space walks
"Say space three times and investors will appear."
With enduring low-interest rates and a global focus on recovery, right now anything space-related is getting an investor-administered shot in the arm. In these frenzies, capital is often thrown as a result of a press release and not always for proof of concepts or businesses responding to market gaps.
One of the major lessons Ronald has learned through his career and working for LeoSat, is that businesses must instead have a clear vision for the future that demarcates them from the herd and responds to a real need –  this is doubly so at times when investors and startups stampede together.
"I talked about having this vision for the future. I think if you are in this NGSO business, and you want to have to develop a vision for the future, you have to look outside of satellites, we're in data communication, so you have to look on the data communication side and for that you have to look at the experts in the field, who are the terrestrial guys."
He also cautions against businesses only focusing on perfecting an already existing technology or moulding a product to fit into one overarching technology, like gateway based internet, and instead, thinking outside the square, or… the pizza tin.
"It's like the pizza Margherita syndrome. If you're in the pizza industry, then this is an industry that can only look at the pizza Margherita, which is most basic of pizza. We would talk about the crust needing to be thicker or thinner, the size, whether it should be bigger or smaller… And I am just thinking, 'why is it nobody, standing up and saying let's grab a bunch of mushrooms, throw it on there, call it a pizza funghi, charge twice the price and see what that does."
To listen to Ronald van der Breggen insights, you can watch the full program here 
Space Café is broadcast live Tuesday at 4 pm CEST. To subscribe and get the latest on the space industry from world-leading experts visit – click here.
Luisa Low is a freelance journalist and media adviser from Sydney, Australia. She currently manages Media and Public Relations for the University of Sydney's Faculty of Engineering.