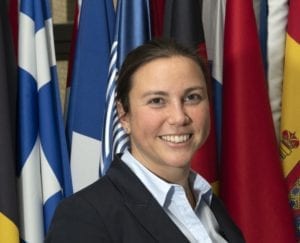 SpaceWatch.Global is pleased to present the 35th episode in our podcast series The Space Cafe Podcast: Elodie Viau – Getting Telecommunication Ready For Space And Beyond
Episode 035 features a special guest Elodie Viau.
The European Space Agency ESA is known for spectacular landings on distant comets or the like. What is little known is that the ESA has no less exciting departments in completely different areas. Like telecommunications, for example. What exactly is ESA up to in this field and why is it probably one of the most exciting tasks of all? Elodie Viau, Director of Telecommunications and Integrated Applications at ESA has taken the time to answer this question in the current episode of the Space Cafe Podcast.
The Space Cafe Podcast brings our signature brand of engaging and relevant content from across the global space economy to you via an exciting new format. Together with award-winning Executive Producer, Markus Mooslechner (Terra Mater Factual Studios), our fortnightly podcast features highly interesting guests.
Each episode includes a review of important topics, as well as guest appearances and deep commentary from expert panellists from across the space sector.
Thanks to our global distribution partner, BookWire, the podcast is available on all major podcast platforms.