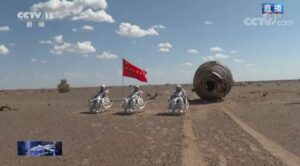 Edinburgh, 21 September 2021. – Three Chinese astronauts safely returned to Earth near Dongfeng in the Gobi Desert, Inner Mongolia, at around 1:34 am ET on 17th September. Nie Haisheng, Liu Boming and Tang Hongbo touched down after completing the first crewed mission of Tianhe space station.
The 1,200 square metre main parachute opened 10 kilometres above the surface, then after landing, search and rescue teams quickly located and secured the capsule. The three Shenzhou-12 astronauts came back to Earth after a 90-day stay aboard the core module for China's space station. During the mission, the astronauts verified regenerative life support systems on board of Tianhe. They also installed equipment necessary for future missions, carried out numerous experiments, Earth imagery and conducted two extravehicular activities.
Shenzhou-12 set a new national human spaceflight duration record of just over 92 days and four hours. The mission was the third of 11 missions scheduled to construct China's three-module space station. Tianzhou-2 cargo spacecraft, launched in May, delivered supplies to the Tianhe core module ahead of the arrival of the astronauts. Tianzhou-2 will test microgravity propellant transfer and then be deorbited over the South Pacific.
Tianzhou-3 has since been launched on a Long March 7 rocket and successfully docked with the space station on 20th September. The spacecraft is providing supplies and equipment for three Shenzhou-13 astronauts arriving in October. Tianzhou-4 is planned for a month after Shenzou-13 re-enters Earth, with Shenzhou-14 launching in May 2022. Two experiment modules, Wentian and Mengtian, are also planned to be launched next year between May-September. The final mission will be Tianzhou-5 launching in October to prepare for the arrival of Shenzhou-15 in November 2022.