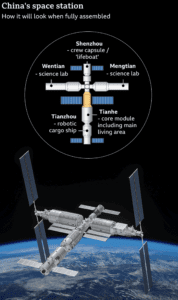 Edinburgh / Beijing, 28 December 2021. – Two Shenzhou-13 astronauts conducted a six-hour spacewalk on Sunday to install equipment outside Tiangong space station's Tianhe module, the China Manned Space Agency reported. This was the fourth spacewalk conducted since the launch of the Tianhe core module in April this year.
The six-hour extravehicular activity (EVA) was astronaut Ye Guangfu's first and mission commander Zhai Zhigang's third spacewalk. The third Shenzhou-13 crew member, Wang Yaping, assisted from inside, operating the module's large robotic arm.
Ye previously assisted Zhai and Wang from inside during the first Shenzhou-13 EVA in November. Zhai was the first Chinese citizen to conduct a spacewalk in 2008 during the Shenzhou-7 mission.
During Sunday's EVA, the taikonauts installed a third panoramic camera outside Tianhe, tested equipment and made preparations for future spacewalks. Taikonauts will carry out tests involving the Tianzhou cargo spacecraft as well as launch two new modules for science research next year.
Shenzhou-13, the second mission to the Tianhe module, launched in mid October and the three crew members will remain onboard until March next year.