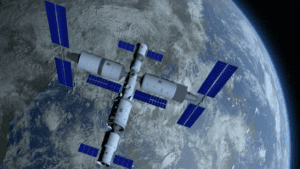 Edinburgh, 4 January 2022. – China's main space contractor, the China Aerospace Science and Technology Corporation (CASC) announced it was planning over 40 orbital launches this year. These include six missions aiming to complete the Tiangong space station.
A Long March 7 rocket will dock with Tiangong's Tianhe core module around March or April, following the Shenzhou-13 crewed mission. The Tiangong space station is expected to operate in orbit for at least ten years to host international experiments.
Long March 3B will deploy communications and remote sensing satellites into orbit. While the first Long March 6A, rocket will also be launched by CASC. The Long March 8 will launch for the second time and Long March 11 is expected to launch from sea.
In addition, science launches will deploy the Advanced Space-based Solar Observatory and X-ray survey satellite, The Einstein Probe. There will be a number of commercial launches as well, with many companies launching for the first time. China conducted 55 launches in 2021 of which 48 were Long March launches.