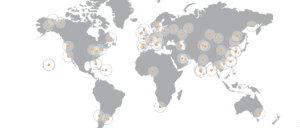 Edinburgh, 24 September 2021. – RBC Signals and Spaceflight Inc. announced having signed a ground station services agreement to test Sherpa-LTE1. There have already been successful communication tests conducted between Spaceflight's Sherpa-LTE1 orbital transfer vehicle (OTV) and RBC's global ground station network.
Spaceflight's SXRS-5 mission launched in June as part of the SpaceX Falcon 9 Transporter-2 launch deploying 35 payloads to SSO. Spaceflight has successfully tested propulsion and manoeuvring of the Sherpa-LTE1 in preparation for future missions. RBC provided the space-to-ground multiple-band communications for the spacecraft.
RBC's ground station network consists of over 80 antennas in more than 50 locations worldwide. The agreement between the two companies is for multiple missions with the option to continue cooperation thereafter.