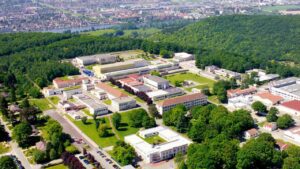 Paris, 24 September 2021. – ArianeGroup is streamlining its workforce at its production sites in France and Germany, the manufacturer of Ariane rockets said.
The company announced a plan to adapt the workforce of a maximum of 600 people – much less than expected, feared or rumored by some observers recently.
The reduction concerns France and Germany, the director of human resources, Florence Gallois, told the French news agency AFP. No site closures are planned, but all departments and sites of the company, whether in Germany or France, are affected, she said.
A Franco-German agreement reached in July foresaw the European Space Agency (ESA) to grant an additional funding of €140 million per year for the exploitation of the Ariane 5 and 6 launchers; the approval of this additional funding is still pending.
The agreement also suggested to bundle the production of Vinci, the reignitable motor for the rocket´s upper stage, in ArianeGroup´s German production sites.
The plan – which is unrelated to the workforce reduction, ArianeGroup said – is to transfer the parts of the Vinci production that are in Vernon in the region of Eure in France to ArianeGroup´s production sites in Germany, mainly Lampoldshausen in Baden-Württemberg and Ottobrunn near Munich.